"Joy."
Sara Silletto needs only one word to describe the mood when volunteers from Kentucky's Touchstone Energy Cooperatives arrive to perform volunteer work at one of the commonwealth's Ronald McDonald Houses.
"We're so happy to see them, and they're so happy to see us," said Silletto, director of development at Ronald McDonald House Charities (RMHC) of Kentuckiana (Louisville).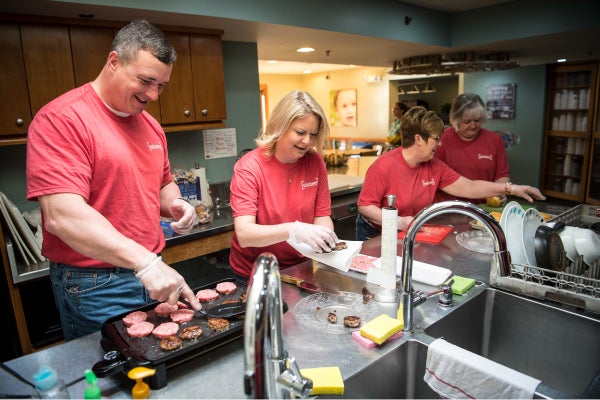 RMHC houses in Louisville and Lexington provide a place for families to call home while staying close to a hospitalized child. In addition to providing a comfortable place to sleep, the facilities offer meals, snacks and laundry rooms — all at little to no cost to families.
The two houses provide more than 14,600 nights of lodging to families. Most come from rural Kentucky communities where intensive pediatric hospital care, such as for premature infants, is limited.  
Co-op employees visit the houses three to four times each year to spruce up landscaping and deep clean interior spaces. We prepare meals and snacks for the guests, and during the annual Wish List drive, we collect food, drinks, cleaning products and other supplies for the houses.
Typically during the holidays, Co-op employees deck the halls for the holidays by hanging lights and decorating multiple Christmas trees at the houses.
"We know we can always count on the co-op team to be there when we need them," added McDonald. "They are truly service minded," said Chelsi McDonald, director of development and communications for RMHC of the Bluegrass (Lexington).