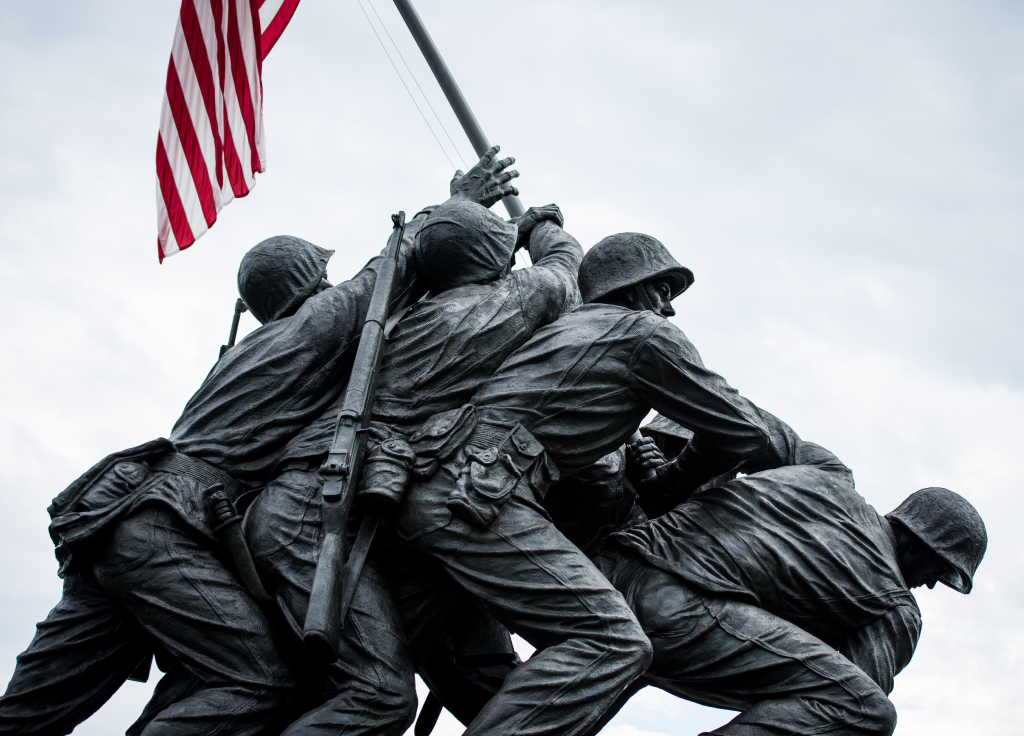 Co-op employees are dedicated to serving you and our nation
When Kentucky's Touchstone Energy Cooperatives take veterans to visit the Marine Corps War Memorial on our annual Honor Flight, we sometimes wonder how many of the 1.5 million people who see it each year know that one of the hero soldiers came from Kentucky.
Franklin Sousley, a son of Fleming County who was 19 in World War II, is one of six Marines immortalized by the statue near Washington, D.C. Being the one with the rifle on his back, he's easy to find.
When he and the other Marines raised the flag on the island of Iwo Jima, the troops below cheered. Sailors off shore saw it too, blowing horns on every ship in the harbor.
It's a moment captured forever at the memorial honoring Marines who died in every conflict since 1775. For soldiers who saw the flag raised, a few called it the best sight of their lives. They knew they might not make it through the day, but the flag represented two priceless jewels: hope and freedom.
As our nation prepares to celebrate Veterans Day Nov. 11, Kentucky's Touchstone Energy Cooperatives are thinking of Franklin Sousley. He was from a family served by an electric co-op. We are also thinking of Iwo Jima because the memorial symbolizes the commitment of our men and women in uniform. 
There are 302,000 veterans living in Kentucky. East Kentucky Power Cooperative is proud to have 54 employees who are veterans. Whether they waded through rice paddies in Vietnam, patrolled streets in Iraq or climbed mountains in Afghanistan, veterans are committed to taking care of the person standing next to them.
We believe in that commitment here too. Our employees know service involves sacrifice. They stand ready 24/7, working in all kinds of weather to provide power to serve you and our nation.
Service is never easy, and the memorial reminds us why. It sits on land next to Arlington National Cemetery, a stark reminder of the cost of freedom. 
Just 31 days after landing at Iwo Jima, Franklin Sousley was shot and killed.
On Veterans Day 2020, we salute him. We thank all who have served. God bless you for what you have done and for your perseverance in defense of freedom.